Basic approach to corporate governance
We recognize corporate governance as a means for maximizing corporate value. As such, we engage in organizational overhauls as appropriate to accommodate the expansion of our business ventures, to manage profits and losses of each of our businesses, and to further clarify authority and responsibilities. We also focus on further enhancing the capabilities of the Board of Directors (which serves as the Company's decision-making body), of corporate auditors and the Audit and Supervisory Board to monitor directors' performance of their duties, as well as on improving the ability of our systems for internal control to prevent improprieties in the execution of business activities.
In addition, to continually increase management transparency and fairness, we intend to appropriately present statutory disclosure documents and to actively conduct IR activities using our website and other means.
Corporate governance structure
System organization
Company with corporate auditors
Number of directors
9 directors, 3 of whom are outside directors
-Outside director ratio: 33% (3 of 9)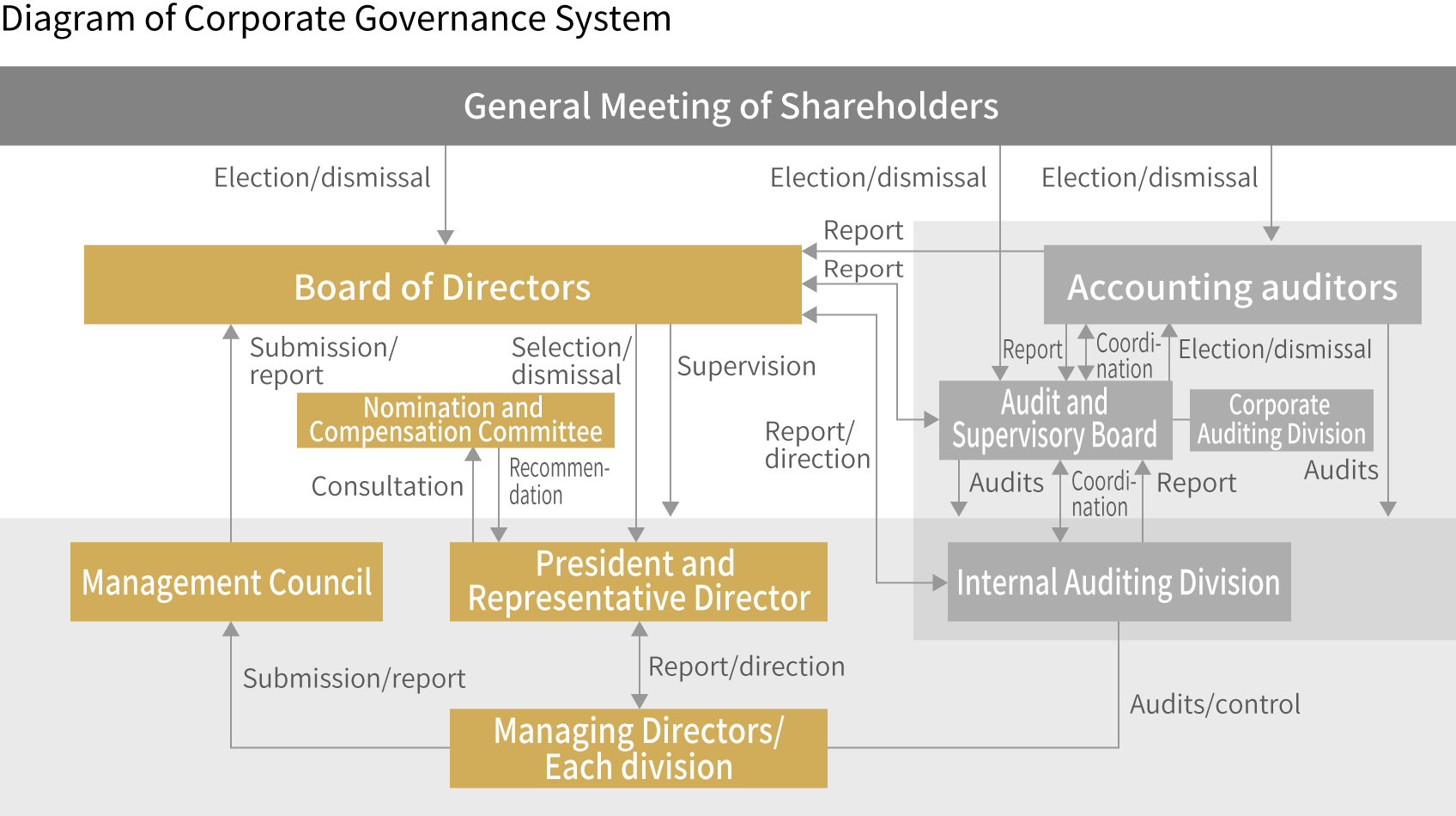 Board of Directors
The Board of Directors has nine members, consisting of six internal directors (including zero female directors) and three outside directors (including one female director). In principle, Board of Directors' meetings are held once monthly, constituting a system that allows speedy and efficient decision-making. To clarify the managerial responsibilities of directors and create a management system that is able to respond swiftly to changes in the management environment, the term of service for directors is prescribed as one year.
Management Council
The Management Council conducts key discussions and decision-making related to business operations. In principle, Management Council meetings are held once a week but may be held at any time when necessary.
Audit and Supervisory Board
We are a company with corporate auditors as stipulated in Japan's Companies Act. Our Audit and Supervisory Board has four outside members (including 2 female auditors), two of whom are full-time (including 1 female auditor), and in principle meets once monthly. Audits are conducted based on a yearly plan. The results of audits are reported and deliberated in meetings of the Audit and Supervisory Board, which offers appropriate advice to the directors. Overall audits of the Company are conducted in coordination with the Internal Auditing Division and the accounting auditors.
Nomination and Compensation Committee
We have established a Nomination and Compensation Committee consisting of all outside directors and the president. The objectives of the committee are to strengthen transparency and objectivity by obtaining the opinions and advice of outside directors before the Board of Directors deliberates matters related to individual nomination proposals and compensation of directors (excluding outside directors).
| | | | |
| --- | --- | --- | --- |
| Number of committee members | 4 | Internal directors | 1 |
| Committee chair | Internal director | Outside directors | 3 |
Evaluating the effectiveness of the Board of Directors
The Company conducts assessment and analysis of the effectiveness of its Board of Directors with the aim of enhancing its capabilities and maximizing corporate value.
This assessment and analysis was carried out by doing the following with advice from external organizations.
A survey was conducted among all director and auditor members of the Board of Directors. We ensured anonymity by having an external organization record the results. The results of the survey were analyzed, discussed and evaluated at the Ordinary General Meeting of Shareholders held. The responses to the questionnaire were generally positive, and we believe that the effectiveness of the Board of Directors as a whole is being ensured.
We will continue to strive to improve the effectiveness of the Board of Directors as a whole.
Internal control
We are developing our internal structure with the basic policies of our internal control system as its base.
The Group has established a code of ethics which emphasizes the importance of compliance and ensures that all officers and employees are fully aware of what that entails through an information system. In addition, the Group has established an internal reporting system as a check on illegal activities and prevent scandals, and has prepared a system to exclude antisocial forces.
As part of our information management system, we have established rules for information management, specified important documents and clarified how they should be stored, and strengthened our system for protecting personal information to reduce the risk of personal information leakage. In addition, we've thoroughly improved how we protect information by adjusting who is allowed to view information and by conducting internal educational activities.
Timely disclosure system
1. Our stance and policy on timely disclosure
We believe that timely and appropriate disclosure of information to shareholders, investors, local communities, and other stakeholders will promote greater understanding of the Company, allowing proper evaluation of the Company. We are always working to improve our internal systems to ensure that we can disclose corporate information in a timely, accurate, and fair manner from the perspective of our stakeholders.
Also, we ensure that our officers and employees are educated on the subjects of insider trading and information subject to timely disclosure through internal training programs such as when they join the Company.

2. Internal system for the timely disclosure of corporate information
To ensure thorough internal management of corporate information and appropriate and timely disclosures, several specialized departments have been set up under the direction and supervision of the management and company-wide initiatives have been launched. In order to improve the accuracy and content of disclosure materials, we have established a system in which multiple departments mutually check each other's work while confirming the quality of our internal control system through regular internal audits. We also have accounting auditors regularly conduct quality and legality checks of our accounting information. In addition, the Company's management and specialized departments have established a system in which they collect and report timely and appropriate information that follows our disclosure guidelines from our subsidiaries, which is then disclosed if deemed necessary.

3. Procedure for timely disclosure
(1) Of information regarding important decisions and occurrences
The director in charge of IR business operations works alongside the IR and Legal Affairs departments to analyze information reported by each of the Company's departments and the Group's companies. They then follow the guidelines for timely disclosure, determining whether information needs to be disclosed, what exactly to disclose, the method of disclosure, then disclosing the information promptly.
As a result, any important matters determined subject to timely disclosure are reported to the Management Council or President, then is presented to the Board of Directors (directly depending on the level of importance), and is promptly disclosed if approved by the Board of Directors.
(2) Of information regarding financial results
The Finance and Accounting department shall consult with accounting auditors and outside experts as necessary to make a report regarding carefully examined financial results materials (consolidated financial results and quarterly financial results) for the director in charge of IR business operations and, upon approval of the Board of Directors, promptly disclose the information.

4. Method of timely disclosure
The Company discloses corporate information without delay via TDnet and EDINET and also distributes disclosure materials to the press. In addition, the Company posts publicly disclosed corporate information on its website and otherwise strives to provide timely, accurate and fair updates to all shareholders and investors.
ESG
ESG
Environment

Social

Governance