Creating a Comfortable Work Environment
Work System
Marble Work Style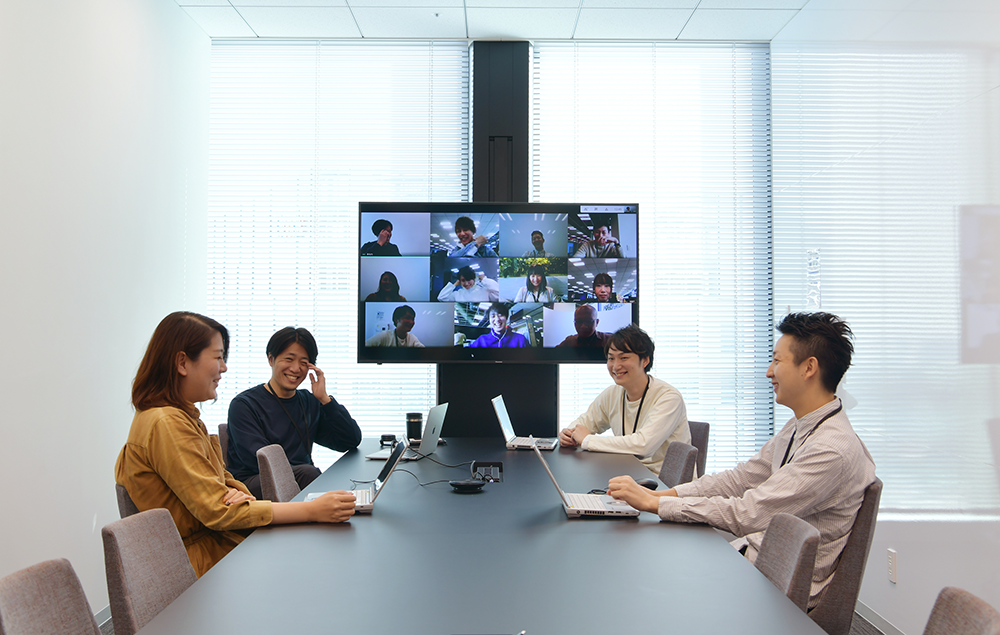 In response to the spread of COVID-19, remote work was introduced company-wide in March 2020. In July of the same year, we began to experiment with what we call "Marble Work", which is a new style of working during the pandemic and beyond.* During the trial period, although working in the office continued to be the standard, up to three days of remote work were allowed per week. Additionally, the core hours of our flextime system were provisionally shortened from 10:00-15:00 to 12:00-15:00.
*We have responded to the spread of infection and government recommendations by allowing for a greater focus on remote work when appropriate.
During the trial period, employee surveys were conducted periodically to help develop rules for the official implementation of the system. Based on a detailed examination of the responses, beginning in April 2022, division heads are now able to choose the optimal frequency of in-office work depending on the situations of their respective teams, with full remote work also being a possibility. Furthermore, to realize an ever more flexible work style, core hours are now officially 12:00-15:00, and employees are able to reside anywhere in Japan as long as they are able to arrive at the office by 12:00.
Through the official implementation of the Marble Work style, we aim to maximize productivity while respecting the varied lifestyles and values of our employees.
■ Overview of the Marble Work style
1. Each division can decide the optimal frequency of in-office work, with full remote work also being a possibility.

2. Core hours have been reduced from 10:00-15:00 to 12:00-15:00.
  Standard work hours: 10:00-19:00 including a one-hour break
  Core hours: 12:00-15:00

3. Transportation expenses of up to 150,000 yen per month are covered, and airplane and bullet train fare is now eligible (effective from May 2022).

4. Employees can reside anywhere in Japan.**
Applicable to:
Full-time, contract, specialist, and part-time employees

Applicable from:
April 1, 2022

Press release (Japanese only):
https://mixi.co.jp/news/2022/0309/2227/
**As long as one can arrive at the office by the start of the core hours (12:00).
mixi Reserve Leave
mixi introduced the "mixi Reserve Leave" system in April 2021. This system allows employees to accumulate up to 40 days of expired paid leave for future use. This leave can be used for reasons such as long-term hospitalization due to illness, celebrations/bereavement, or nursing/nursing care. There are no restrictions on the number of days that an employee can use this leave*.
By introducing a leave system that can flexibly respond to changes in the life stages of individual employees, the mixi aims to create an environment in which employees can work comfortably over the long term.
*Reserve leave must be accumulated before it can be used.
Supporting Families
Childcare
Maternity Leave, Childcare Leave, Shortened Working Hours
So that employees don't have to worry about balancing work and childcare following maternity leave, employees can take childcare leave until the child is two years old. And with shorter working hours, they can focus on childcare until the child reaches the end of the third grade of elementary school.
Child Nursing Care Leave
This is a leave of absence granted separately from annual paid leave to employees who have children who have not yet entered elementary school. Employees can take up to five days per year to take care of their child if they get injured or sick.
Assistance with Sick Child Care and Babysitting Services
For those with children that aren't old enough to enter elementary school, we subsidize 50% of the cost when they use childcare services such as sick childcare, babysitting companies, and family support services during work hours.
Internal Communication
Nursing Care
Employees may take nursing care leave in accordance with the Act on Childcare Leave, Caregiver Leave, and Other Measures for the Welfare of Workers Caring for Children or Other Family Members. In addition, the company has established in its employment regulations a provision for shortened working hours for nursing care, which allows employees to reduce their daily working hours to six hours, or as otherwise agreed upon by the company and the employee.
Other
As part of the "Partnership for Living" program, mixi has entered into agreements with companies that provide lifestyle services to offer special corporate benefits. Employees of mixi can use the services of these partner companies at a special discount.
Specifically, we have entered into partnerships with a variety of companies, including housekeeping services that support life-work balance, convenient home delivery dry cleaning services, and clinics that provide infertility-related consultations, examinations, and treatment.