Rather than merely providing efficient means to connect people, MIXI aims to inspire deeper, richer connections through the sharing of joy, excitement, and warmth.
The new MIXI will continue to create places and opportunities for meaningful connection, bringing delight and wonder to the world through authentic emotions and vibrant communication.
PURPOSE
Enriching communication and inspiring moments of joy.
Since our founding, we have maintained this singular purpose and we intend to deepen our commitment to it moving forward.
Rather than focus on increasing the quantity and frequency of communication, we strive to promote deep and meaningful connection. Through this endeavor, we believe we can inspire the creation of more moments of joy in the world.
MISSION
To provide space and opportunity for truly meaningful connections.
Simply connecting people is not enough to fulfill our purpose. We must enable the building of deep emotional ties.
We achieve this by providing both fun and exciting content that inspires communication, as well as the space and opportunity to connect meaningfully with friends and family around the world.
MIXI WAY
User surprise first.
To accomplish our mission, we will continue to focus on user surprise above all else.
Before prioritizing a user-first approach, marketing concerns, or even our own interests, we start with the question, "Would this be a pleasant surprise?"
This consideration applies to everything from production to management-level decisions.
VALUES
Innovation

Be bold. Forge a new path and shatter expectations.

Passion

Start from the heart. Share aspirations and grow together.

Integrity

Stay sincere. Be honest with yourself and others.
CORPORATE
BRAND LOGO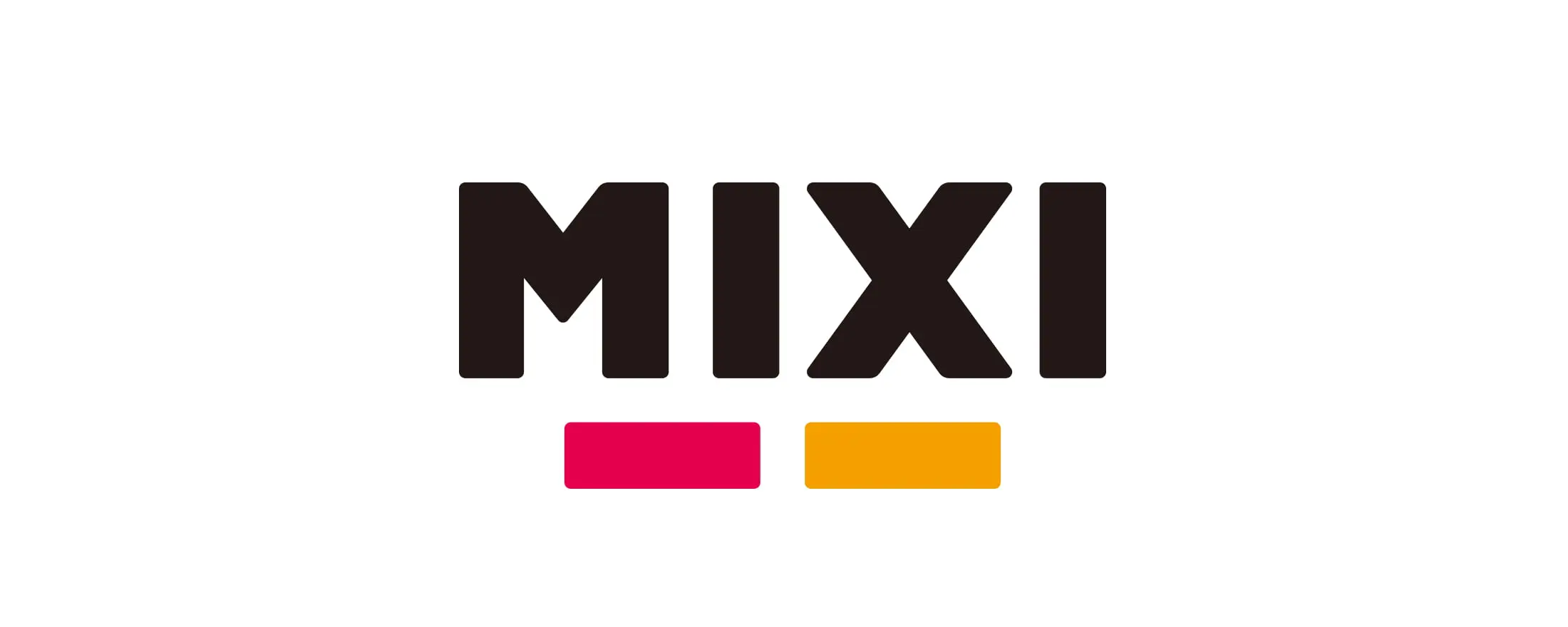 The redesigned corporate brand logo uses thick, substantial capital letters to instill a sense of trust, stability, and ubiquity and leave a lasting impression as one of the leading companies in our field. With this logo, we intend to present our worth to the world as a whole, so we picked a bold font to help us realize this bold, cohesive vision. The two underscores at the bottom of the logo are rotated copies of the "I" in MIXI with a color scheme of red and orange. This adds two colors of emotions—heated excitement and warm comfort—to the original meaning of MIXI—interactions (MIX) between people (I)—that represent the passion that goes into our work to enrich communication between friends and family with emotion.
With our new logo as the starting point, we will promote excitement and joy in connections through a continued focus on communication and greater consideration for emotional content.
EMOTION LOGOS
Our services have been built around enriching communication and stimulating emotions with ideas that resonate with people. Emotion has always been one of our themes and we believe that it will remain key in pushing forward into the future. To represent their place in our core, we have prepared new logos that express emotions as colors to act as guideposts for our services in the future.
MIXI RED

The color red expresses the spirit of excitement and adrenaline elicited by games like Monster Strike as well as sports. MIXI RED stands for the excitement in connections provided by our Digital Entertainment and Sports businesses.
MIXI ORNG

The color orange symbolizes the comfort and warmth in connections that make up the DNA of MIXI. MIXI ORNG stands for the comfort in connections provided by our Lifestyle businesses.