With a focus on communication, mixi Group always strives to invent new markets by providing unexplored value.
Net sales

112.1

billion yen

Operating
income

17.1

billion yen

Ordinary
income

16.9

billion yen

Equity ratio

90.0

%

Dividend
per share

55.0

yen

Dividend
payout ratio

77.3

%
(As of March 31, 2020)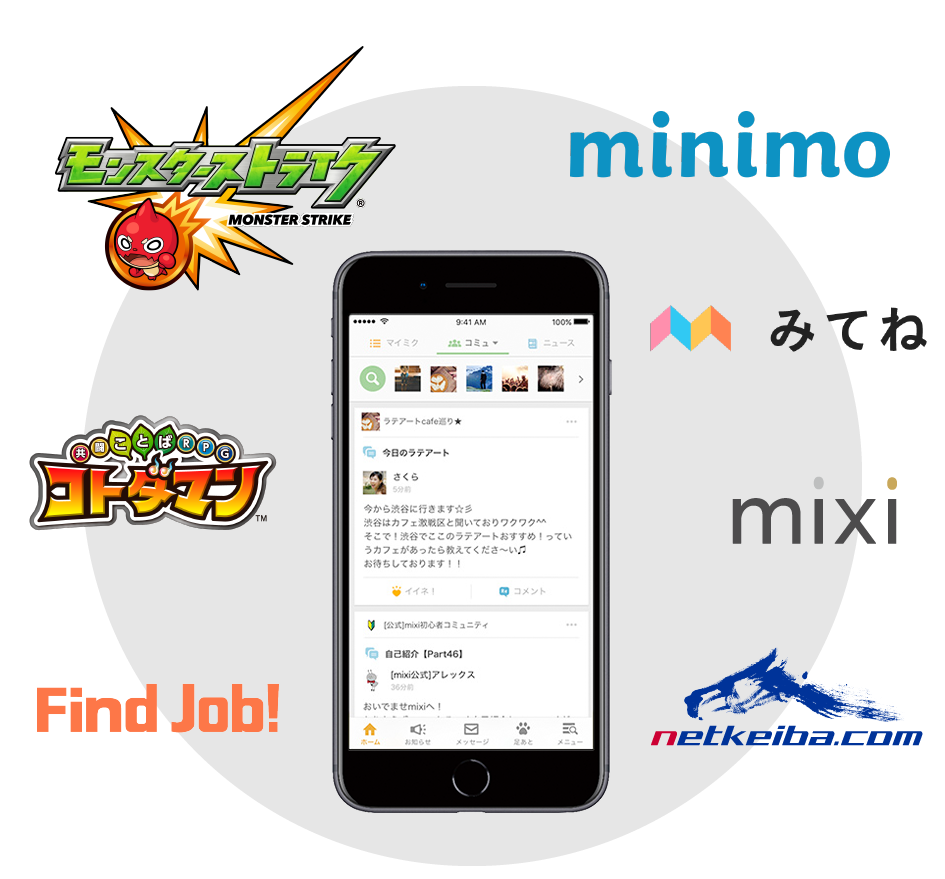 We launched the Find Job! employment information service in 1997, the mixi social network in 2004, and the Monster Strike mobile game in 2013. In addition, we have developed many other communication-oriented services like FamilyAlbum (Mitene), an app for sharing photos and videos of children within the family. At the core of all these mixi Group creations is our principle of designing communication.
So essential and strong is the power of communication that no matter how far technology advances, there will always be a place for communication between people.
mixi Group incorporates the power of communication that connects people into not only our services, but also into our marketing. We believe that when you can touch the hearts and minds of your audience--connect to them at their deepest level--you'll be able to create services that are continually loved by large, dedicated userbases.
We have accumulated our own unique know-how for designing communication and marketing solutions through our mixi social network. In fact, mixi Group has a broad spectrum of knowledge and experience in the area of communication: one of our strengths lies in the ability to complete all processes involved in service development itself, from developing concepts from scratch, through creating products based on its service designs, to expanding the sales of and improving its services based on its marketing designs.
By utilizing these strengths, mixi Group will continue to strive to create new markets by providing new value in its two main areas of business--its entertainment and media platform businesses--while upholding its mission: creating a new culture.