One-on-Ones
Since around 2007, mixi has held one-on-one meetings with superiors and colleagues, and they have become a distinctive culture within the company. The one-on-one meetings with superiors are used as an opportunity to build a relationship of trust through discussing work progress, consultation, review and feedback, and discussion of anything the employee would like to try.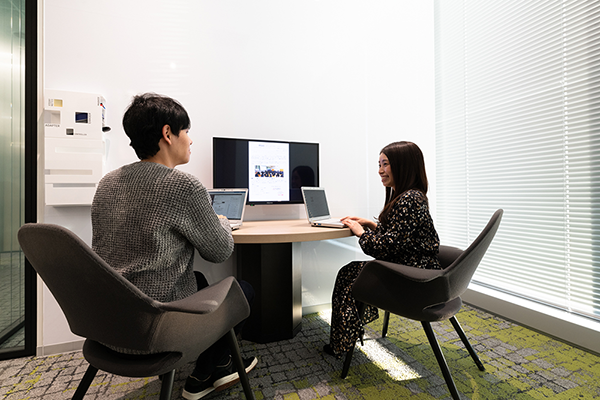 We also hold one-on-one study sessions with management-level employees to improve the quality and productivity of one-on-ones.
To gain new insights and ideas, we also conduct one-on-one sharing sessions to share successful experiences, challenges and initiatives.
In-house Recruitment System (mcc: mixi Career Challenge)
This is an internal recruiting system that provides opportunities for employees to take on new challenges by disclosing the requirements for available positions in priority areas based on business strategies or where there is a shortage of personnel. The system is widely used as an opportunity for autonomous career development, regardless of age or job type.
Skill Development Support
We provide support in various areas for our employees' personal growth because we believe that "supporting individual personal growth leads to business success".

Partnership Plan (Special Corporate Benefits)
Employee discounts are available for services of partner companies, including English and programming courses.

Book Support System
This is a system that supports employees when they purchase business-related books, self-improvement books, technical books, and other books that help employees improve their skills, acquire knowledge, and "lead to success".
*Available to: Regular employees, contract employees, and specialist employees

Support for App Store & iTunes Gift Card/Google Play Card Purchases
This program is designed to promote using paid apps and premium features within apps so that our employees can be exposed to a wide range of entertainment and apply it to develop their own services. We subsidize 50% of the purchase price of "App Store & iTunes Cards" or "Google Play Gift Cards". (There is an upper limit to the amount that can be subsidized)

Optional Training
This is an optional training system that allows employees to learn from business training courses held by outside educational institutions. Since employees can choose the courses that best meet their individual needs, they can efficiently acquire the knowledge and skills they need, and the company bears the entire cost.
ESG
ESG
Environment

Social

Governance