Creating a Comfortable Work Environment
Work System
Flextime
In order to respect the diversity of our employees' lifestyles, mixi has introduced a flextime system.
As part of our COVID-19 response, in March 2020, core hours were changed from 10:00-15:00 to 12:00-15:00 to avoid commuting congestion and to create a more comfortable working environment.

Standard work hours: 10:00-19:00 with a one-hour break
Core hours: 12:00-15:00

Marble Work Style
Following the state of emergency declaration regarding COVID-19 in April 2020, employees were prohibited from coming to the office unless necessary and worked fully remotely through June.
With the resumption of socioeconomic activities in July 2020 and thorough consideration of COVID-19 response measures, we implemented what we call a "Marble Work Style", a fusion of remote work and office work. With this we aim to realize a new work system that facilitates high levels of productivity for our employees with diverse lifestyles and values.

Coming to the office is standard, but employees may work remotely up to three days a week*. We believe that by allowing employees to decide whether the nature of their work for each day is better done at the office (such as days when face-to-face meetings are scheduled) or remotely, everyone will be able to work more efficiently.

*Full remote work is also possible under certain conditions for employees who need to work remotely, who are at risk of complications if infected with COVID-19, or who need to take care of their children at home.

mixi Reserve Leave
mixi introduced the "mixi Reserve Leave" system in April 2021. This system allows employees to accumulate up to 40 days of expired paid leave for future use. This leave can be used for reasons such as long-term hospitalization due to illness, celebrations/bereavement, or nursing/nursing care. There are no restrictions on the number of days that an employee can use this leave*.
 
By introducing a leave system that can flexibly respond to changes in the life stages of individual employees, the mixi aims to create an environment in which employees can work comfortably over the long term.
 
*Reserve leave must be accumulated before it can be used.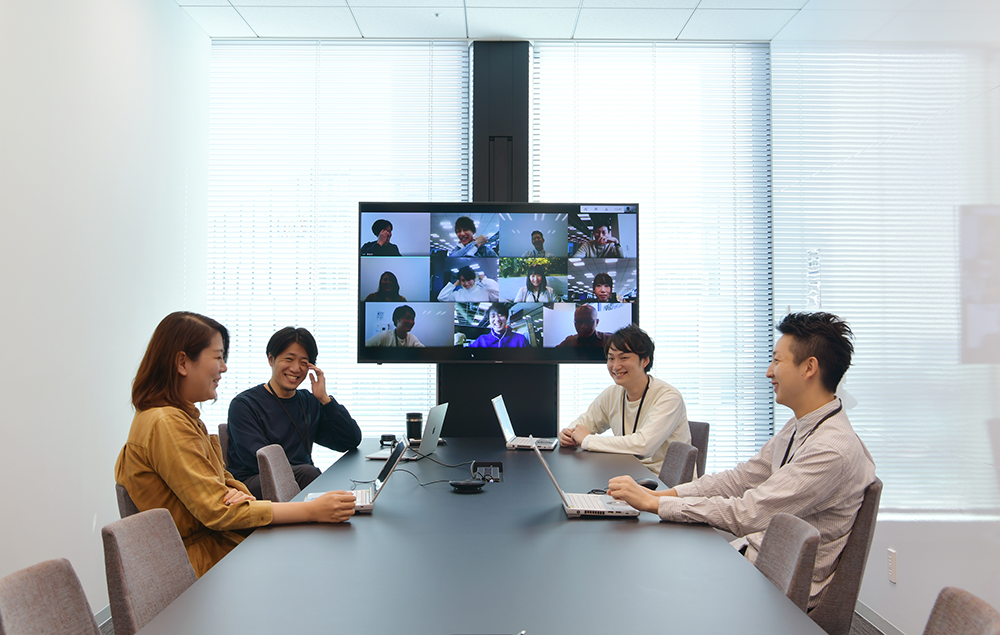 Supporting Families
Childcare
Maternity Leave, Childcare Leave, Shortened Working Hours
So that employees don't have to worry about balancing work and childcare following maternity leave, employees can take childcare leave until the child is two years old. And with shorter working hours, they can focus on childcare until the child reaches the end of the third grade of elementary school.

Child Nursing Care Leave
This is a leave of absence granted separately from annual paid leave to employees who have children who have not yet entered elementary school. Employees can take up to five days per year to take care of their child if they get injured or sick.

Assistance with Sick Child Care and Babysitting Services
For those with children that aren't old enough to enter elementary school, we subsidize 50% of the cost when they use childcare services such as sick childcare, babysitting companies, and family support services during work hours.

Internal Communication
To make it easier for employees with children to communicate with each other, employees have created a "kosodate" channel in the "Slack" communication tool to freely exchange information and experiences on child-rearing.

In addition, several times a year, a "Childcare Goods Exchange" is held in the office break space during lunch break. Employees who no longer need items such as children's clothes, toys, swim diapers, wipe warmers, etc. as their children grow up are asked to bring them to the exchange for anyone who needs them. The event is held during lunch break so that employees can interact with each other freely over lunch.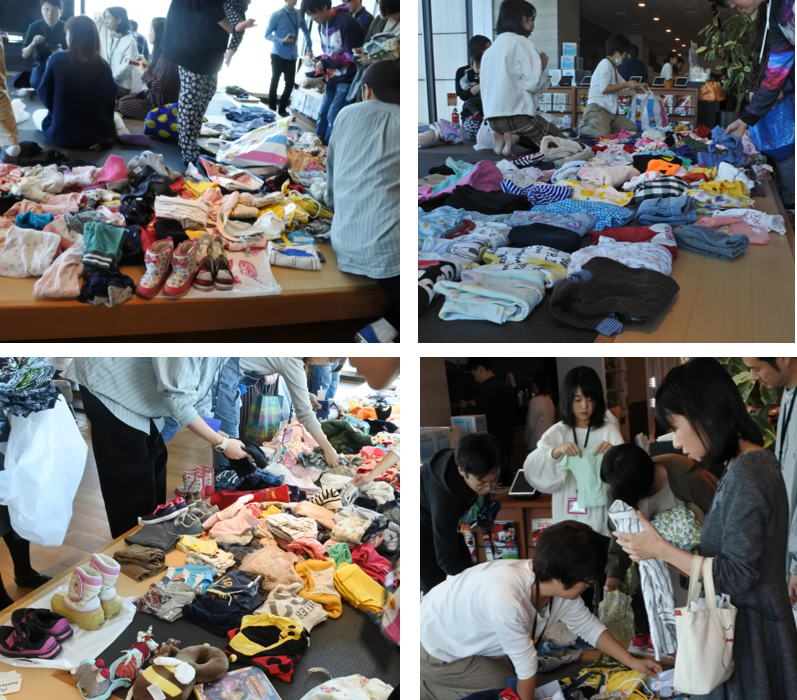 Childcare Goods Exchange in November 2019.
Nursing Care
Employees may take nursing care leave in accordance with the Act on Childcare Leave, Caregiver Leave, and Other Measures for the Welfare of Workers Caring for Children or Other Family Members. In addition, the company has established in its employment regulations a provision for shortened working hours for nursing care, which allows employees to reduce their daily working hours to six hours, or as otherwise agreed upon by the company and the employee.

Other
As part of the "Partnership for Living" program, mixi has entered into agreements with companies that provide lifestyle services to offer special corporate benefits. Employees of mixi can use the services of these partner companies at a special discount.
Specifically, we have entered into partnerships with a variety of companies, including housekeeping services that support life-work balance, convenient home delivery dry cleaning services, and clinics that provide infertility-related consultations, examinations, and treatment.