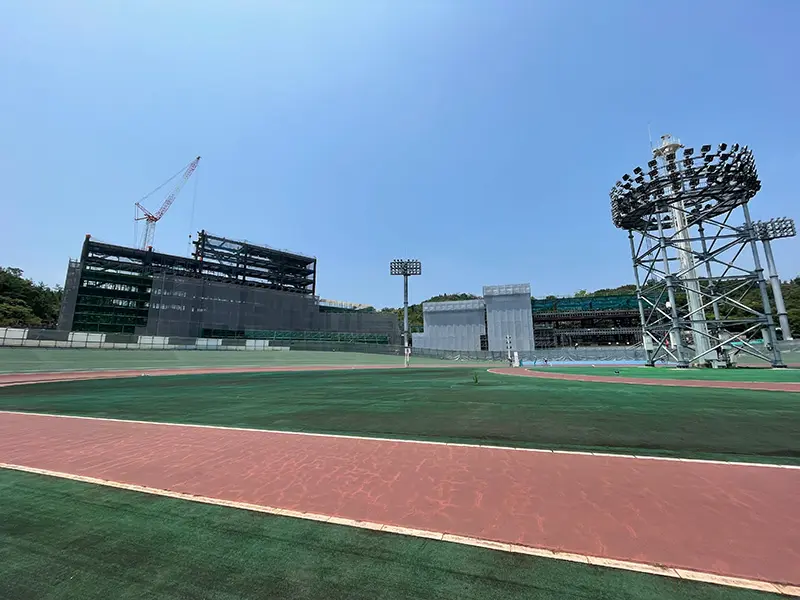 Climate change threatens our way of life through negative environmental events such as large-scale natural disasters and droughts that can lead to food shortages. In the redevelopment of the Tamano Velodrome, mixi Group is seeking to alleviate climate change by reducing the environmental footprint.
With online sales for betting tickets expected to become mainstream, the total floor area of the new main stand will be reduced by 40% compared to the previous stand, leading to a reduction in construction materials. We have also adopted environmentally friendly designs for the new facility―benches from the former stadium will be reused as restaurant chairs, and material waste will be utilized for the interior of the hotel.
The exterior wall will be comprised of both cement and timber. Materials that are difficult to use in construction such as thinned wood * and wood offcuts are being utilized for the timber. Through effective processing, the material can be made suitable for use and the CO2 inside the wood can remain trapped. Alongside this, we are aiming to increase the carbon sequestration by using trees, by participating in a forest growing project carried out by companies that produce materials for exterior walls. We will also work to reduce power usage following the completion of the facility by implementing measures such as reducing air conditioning power consumption through the improvement of heat insulation and adopting LED lighting for signs and stadium illumination.
mixi Group will continue to redevelop the Tamano Velodrome, guided by the goal of creating a facility that can exist in harmony with the environment.
※Wood material from trees felled during forest thinning carried out with the aim of encouraging tree growth.